By 2009, Kaitlyn really wanted a sibling. She asked for another baby pretty much every day. She turned 5 that year and was absolutely obsessed. By Christmas, I'd experienced 3 miscarriages and I was starting to accept that it just wasn't going to happen. A few days after Christmas, Dusty's uncle was visiting and brought the cutest, tiniest puppy in the world with him.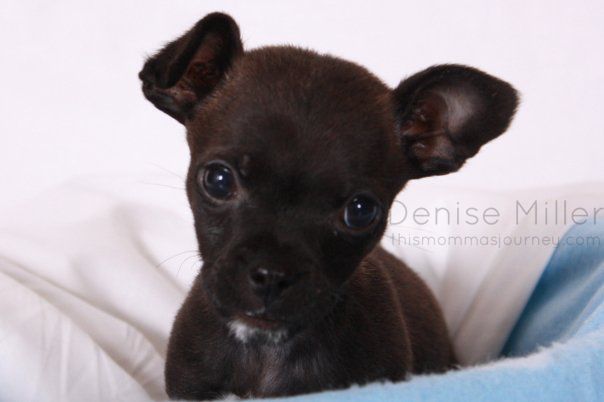 He was only a few weeks old. He was the runt. His mom had killed all the siblings and he only survived because he was tiny enough to hide behind a hot water heater. He had been bottle fed and was just so tiny with such a massive head. His head was so heavy, when he bent down to eat, his feet would go in the air.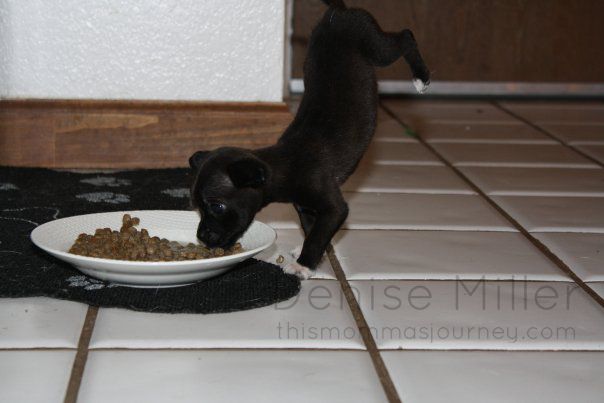 Kaitlyn begged for him. I begged too. Dusty was pretty strong about saying no, reminding us that we didn't need another dog, and reminding me of the cons of another dog right then. But, he quickly gave in.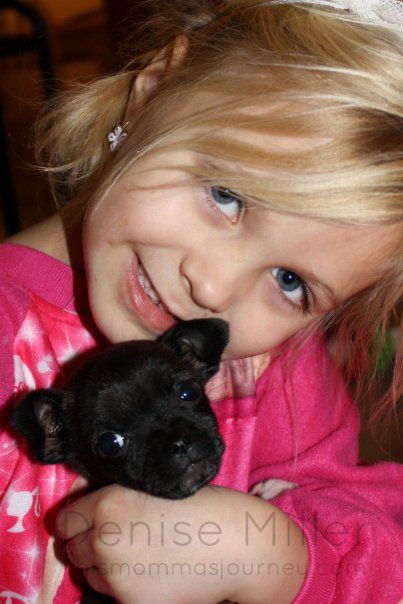 His name was Chico. I don't know if Archie was more irritated when we brought home Chico or a baby... But, I thought Chico would help keep Archie active and young longer. Makes sense, right?
I took Chico with me everywhere. He was so tiny and so cuddly and I was so scared to leave him. After we had him for a few months, we found out I was pregnant with Samantha. I took Chico pretty much everywhere with me until Samantha was born. By then, he was 10 lbs, neutered and good at being left at home.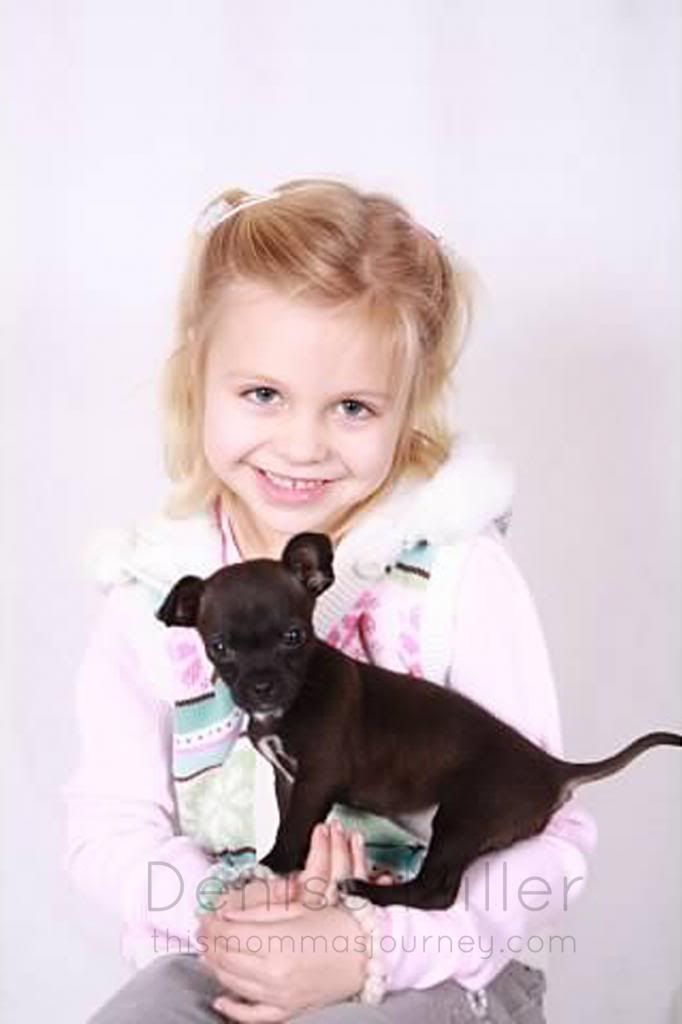 Chico is such an interesting looking dog. He has a severe underbite, so bad the vet asked if we wanted to get him braces. Since he has no problem eating, it would be $5,000 (or so) for a cosmetic procedure. He has "bat" ears, squinty eyes and a muscular chest. He is part chihuahua and part pit bull. He is amazing with kids and not always the brightest crayon in the box...
We were out of town for about a week earlier this month. We had a family member house sit and watch the dogs. Normally, we just have a family member check on them, but Archie is getting old and having a hard time getting in and out of the doggie door, so this made way more sense. And we were so grateful.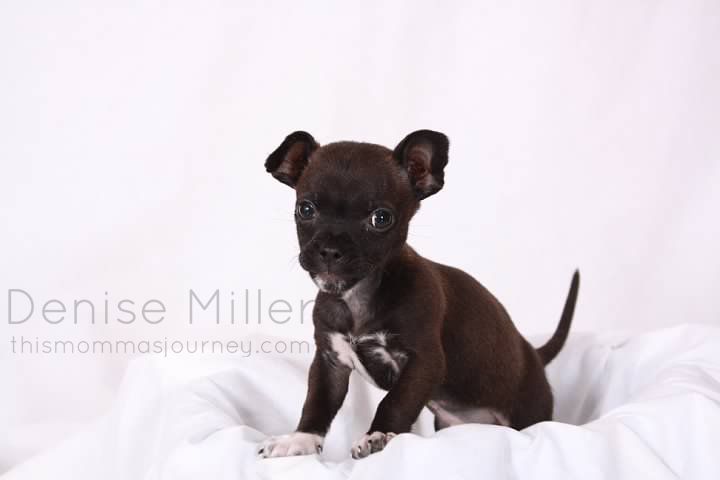 Chico decided to get out of the backyard while we were gone. We figured it out when we returned. Somehow, it went unnoticed, which can be easy to do since sometimes Archie barks enough for both of them and will absolutely devour Chico's food if given the chance.
At first, I figured he was in the field behind our house. He had gotten out there before, but always came back. We searched and searched. He wasn't there. I whistled for him and called his name and nothing. We went to the neighbors. No one had seen him. The man next door that just moved in said he hadn't barked at him in 2-3 days.
Within a couple hours we had posted 25 flyers in the area. We had talked to everyone whose house touched ours or the field behind ours. Dusty did most of the talking. We walked through that awful field over and over again.
One man said he saw him on Saturday running away from the field. A few other men said they saw a group of pitbulls around the area. We hoped and prayed that he was just ok. I put ads on facebook, with the pounds and shelters and on craigslist.
The next morning, I was browsing craigslist and came across an ad of a dog that looked like Chico.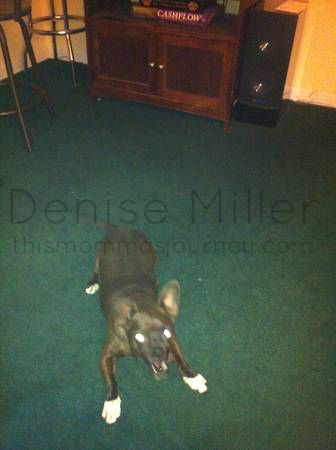 They found him on Friday night, in the direction he was last seen running. I called their number. I emailed them. I text them. I didn't hear back. I did it all over and over again. A few hours later they called.
They said he had been picked up by his family. I asked if they were sure because that looks so much like our dog. She said "they fell in love with him" and she had no way of proving it. But, if I called her back that night when she got home, she would give me their information.
I called her at the time she said. No answer. I text. I left messaged. I called again. And again. And again. She finally called back and said she wasn't home, but she talked to them and they admitted it wasn't their dog. They were taking him back to her and we could pick him up. She would call when he arrived.
That was at 8:30 p.m. By 10:30 p.m. We hadn't heard anything. So, I text. No response.
The next morning I called. Again and again and again. Nothing. Around noon, she text they were bringing him by at 2 and we could get him then. I responded asking her for her address. I heard nothing. 2 came and went without a phone call or text. I emailed, I called, and called and called.
We were getting frustrated, upset, irritated, angry. I called the police who said it was a civil matter. I couldn't understand why she didn't just call back to give us an idea of what was going on?
I started calling every 20 minutes. At nearly 7, my phone rang. It was a friendly voice, a different one explaining that she had our dog.
Chico had found his way into the garage of her mother-in-law, the woman who posted the ad. The kids saw him the next morning and fell in love with him. They took him home to their 4 year old son and 2 year old daughter. They named him Turbo. They bought him toys and specialty food and gave him a bath. The didn't know his family was looking for him. They didn't know there was a craigslist ad. They didn't know he was microchipped.
Dusty and Kaitlyn picked him up. The little boy was upset. Kaitlyn was happy. Samantha was beyond thrilled. And it was bittersweet. I felt for them, they had a few days to grow attached to "Turbo" and fill the void left by their dog that ran away and never came back. They didn't expect him to be "found."
Chico is home where he belongs and I sincerely hope that little boy has a puppy of his own to love and grow up with.