Those who know me or have seen me at all since the end of October, 2007, know that I have a soft spot for memorial jewelry.
The first piece of memorial jewelry I ever bought was a week or two after Matthew died. I bought this little number a white gold and diamond necklace from
Pictures On Gold
that had one of Matthew's photos engraved into the gold. I wanted some way to have him near him, with me, visible to the world as still existing.
I wear it nearly every single day. It has it's pros and it's cons. The pros are that it's gorgeous, it sparkles and it shines. The cons are, it has already had the photo replaced. It just doesn't look good after a couple of days. The way the design is, the plate sits inside of a disk that is set in the middle of the diamond heart. It isn't completely flush, so it fills with gunk. The photo discolors so quickly and I hate having it gone for a couple weeks when they replace the photo. It's even more frustrating given that it is ridiculously expensive.
About 2 years ago, I got a tattoo. I had been planning it for years, but just needed the design, timing and planning to all come together. I love it. But, again, it doesn't replace the need I have for memorial jewelry.
About 6 months ago, I bought an origami owl locket. Again, I love it. But, while I adore that it incorporates the entire family, all the babies I've birthed and my amazing hubby, it doesn't feature just him. It doesn't have his picture, his big brown eyes, his beautiful skin.
Last week, I was contacted by Hallie of
Jewelry Keepsakes
. She asked if I would be interested in reviewing a piece of their Memorial jewelry and I had no choice but to say yes.
I selected the Silver Round locket with the 18" silver chain. It was incredibly easy to order and because of how busy last week was (having 4 kids 3 and under 2 days a week and the rest of the days with 3 kids 3 and under, and Kaitlyn, the crab feed, life... things have been crazy), I dropped the ball and didn't email over the picture I liked or engraving until Thursday afternoon. Even so, I was excited to open the mail box today and have an awesome surprise!
It is simply gorgeous.
It sparkles. It shines. It is smooth and the perfect weight. The photo turned out beautiful.
The back is engraved with "Twinkle bright our little Matthew 08/06 - 10/15/07" It is deeply engraved, making it hard to photograph. But, it does feel like it could be worn on a daily basis without "wearing down" the engraving.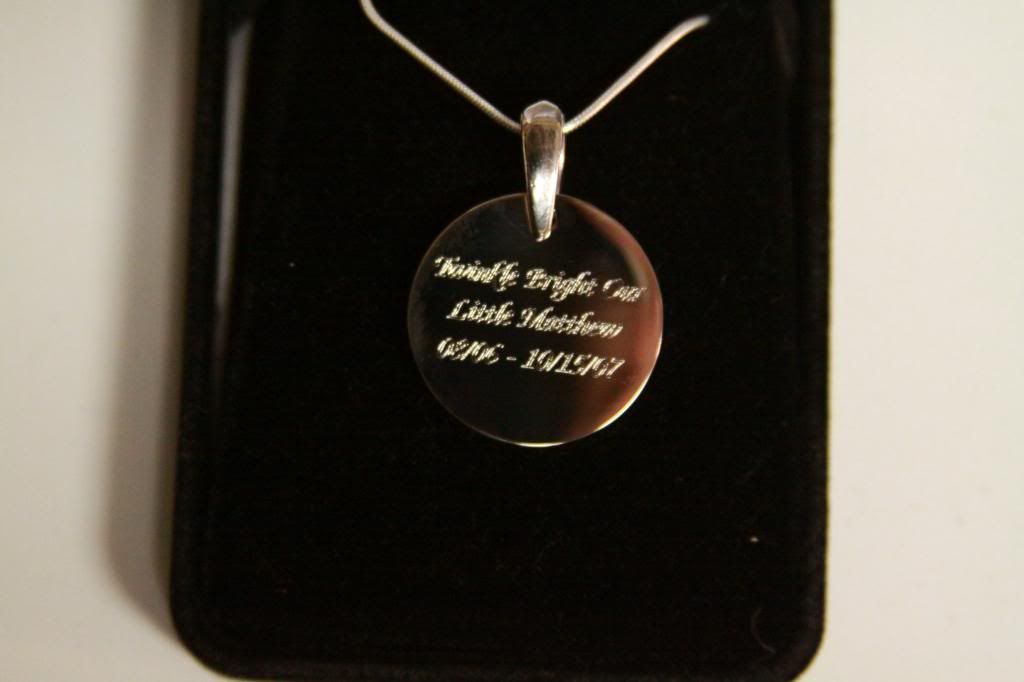 I love the way it looks, feels and carries. It is a longer chain than I normally wear, but comfortable.
Charlotte likes to grab my necklace whenever I hold her and has caught her mouth and hangs on my diamonds. I've also snagged it on sweaters, my robe and things. This charm fits exactly in Charlotte's little hand. She can "hold" her big brother every time I hold her.
This is the perfect every day necklace. With it, I can keep him close to my heart and share his beauty with the world. Thank you
Jewelry Keepsakes
your work is amazing, heart warming and a touching keepsake.